Fresh, fun & foot tapping contagious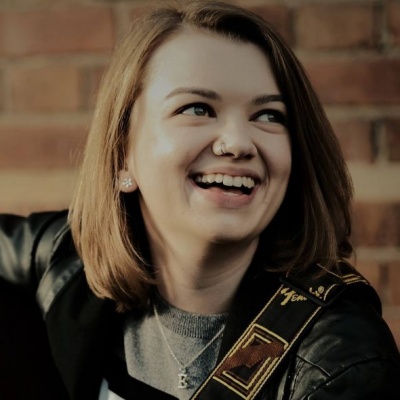 By Emily
We're constantly told that growing up in today's modern world is a lot harder than it was for previous generations. There's more pressure to succeed, more demands from those in power and less money falling into the back pockets of the young adults. It also seems a lot harder to be yourself, something 22-year-old Zuzu understands perfectly.
Her latest track What You Want is about everything she wanted to be as a teenager. It's fluffy indie rock with a chorus that has you singing along in no time. Zuzu has a sound that is fresh and instantly likeable, as well as a refined lyrical fluidity making this undeniably catchy chorus, stick in your mind long after hearing it.
Released through independent label Hand In Hive, What You Want builds on her previous release Get Out. The band's signature guitar sound and Zuzu's distinct Liverpool tongue bleeds through both tracks, making it very hard not to like her or her music.
Zuzu and her band are part of a new exciting and engaging breed of homegrown bands, born from the rawness of the likes of popular four-piece The 1975 Wolf Alice and rising rock machine. She Drew The Gun.
The 2010s have seen the return of "real bands" — i.e. a vocalist, a guitarist, a bass player and a drummer — with a modern twist. It's real music, and it's never going to go out of fashion, which is why Zuzu is onto a winner.
She even makes interesting music videos too. What You Want is accompanied by a ridiculously good video, inspired by the 2004 star-studded lesser-known American movie, I Heart Huckabees.
Premiering on Noisey last month, the video sees Zuzu analysed and assessed by the Existential Detectives, who she hires to help her with a personal crisis. I'm not sure whether they actually do much "helping", but it makes for an exciting and memorable video all the same.
Arguably one of the most significant moments in the band's success to date was in December 2015 when Zuzu bagged herself a slot supporting Courtney Barnett at the O2 Academy. It was fitting support for the Australian rocker and likely a milestone in the young musician's career — as well as slots at Tramlines, The Great Escape and Truck Festival. I'm sure we'll be hearing her name much more frequently in the future.
What You Want is exactly what you want right now. It's fresh, fun and foot-tappingly contagious and Zuzu is much the same. With a continuously expanding following and radio play on Huw Stephens' BBC Radio 1 show, it's safe to assume that Zuzu is going to make waves this year.
"Whether you like it or not, you're gonna see me a lot", she sings. I don't think she's far wrong.
Listen on Soundcloud
Learn more on Facebook
STAY UP-TO-DATE
News from the coop
SIGN UP
For all the latest news,
offers and upcoming gigs
© 2014-2023 FatPigeonLive