Thomas & the Empty Orchestra | Patron Saint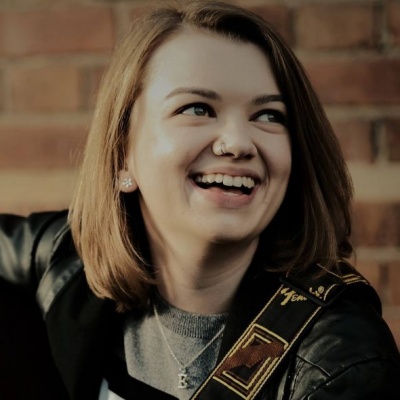 By Emily
Music is an extremely powerful tool. It helps to sooth wounds left by lovers, mend broken hearts, fix friendships, bring people together and break down barriers, both politically and socially. But for musicians, music can be a form of expression; a way to deal with the curve balls that life throws at you. This is something that 29-year-old Thomas Bower understands completely.
Creating music under the name of Thomas & The Empty Orchestra, for Sheffield-based Thomas Bower, music has been something that has been in his life since he was a young boy. "My father really nurtured a love of blues and rock and roll at a young age," he tells me. When Bower inherited his grandfather's beaten up acoustic guitar at the age of nine, that's when the stars aligned. "Something in me just clicked. I felt and continue to feel like the real me when I've got a guitar in my hands. Nothing's ever compared to that."
Although having been in and out of various bands for the last 15 years, most recently with O Captain, Thomas Bower seems to have found his muse as a solo acoustic musician. His influences hark back to the 60s/70s folk and pop era to artists such as Nick Drake and Paul Simon, as well as the Pacific north-west emo/indie scene including American Football, Bon Iver and Fleet Foxes, something that is noticeable in the music he creates.
"I take a lot of influence from literature, and I think that's helped me to diversify the themes that I write about. It's easy to fall into the tropes of 'sad white-boy acoustic artist singing about girls', so I try to introduce something a little more varied than that. I want to be able to tell stories or give some insight into a time or place."
Thomas & The Empty Orchestra appeared on my radar at the tail end of 2016, when he released previous single 'A More Equal Punishment'. His lyrics are overtly open, as he reflects not through rose-tinted glasses, but with a realistic and soulful approach. This is something that, he says, has become a much more cathartic experience since going it alone. "I use my music as a bit of a therapy session. Being a soloist means I'm free to explore much more personal ground."
Listening to his music is like an open invitation into Bower's mind, where songs are formed from past experiences and memories. "I tend to start with a central idea and build outwards from there, " he says. "It's a bit like archaeology; you rebuild old experiences and fit old emotions back together for the song."
A rather simple and beautiful way to deal with life. 'A More Equal Punishment' appeared to stir some interest in Bower and his music, even if he was accused of 'navel gazing'. "I got accused of not sounding like I cared if people enjoyed the song. I guess that's true enough though." To a point, yes, but Bower recognises the significance of people relating to his music. "Nothing makes me happier than when people engage with something I've written, if it's meant something to someone, or they've read something into the lyrics that I'd not intended. But really it's quite an insular process. I'd still be doing this if nobody was listening at all."
People are most definitely listening. His brand new single 'Patron Saint' was released on Friday 17th March and carries an altogether different feel. Based on the importance of the things that don't happen, rather than the things that do, Bower wanted the production to reflect that. "We kept it really sparse and really, really close, so it kind of felt like you were there in the moment. You can even hear the wheeze of my old guitar. We pretty much just ran through the vocal in one take, so it sounds more natural." 'Patron Saint' might not have you dancing for joy, but it will definitely have you feeling the music, as Thomas & The Empty Orchestra strums at your heart strings.
Thomas & The Empty Orchestra is no longer a musical project finding its feet. It's a strong, overpowering weight of a sound that is fuelled by one man and his talent for writing from his heart.
STAY UP-TO-DATE
News from the coop
SIGN UP
For all the latest news,
offers and upcoming gigs
© 2014-2023 FatPigeonLive