Music For The Drunks In the Apricot house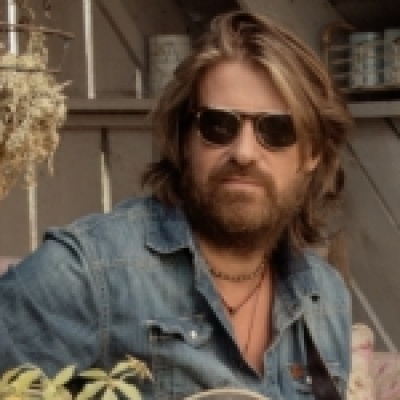 By Mike
Frank Pope and the Holy Smoke
A long Time Coming
"I've always enjoyed telling stories. In this album, every song tells a story, and pretty much every song has a story attached to its making."
So reflects Audlem's own Mike Waldron, aka Frank Pope, on the forthcoming debut album for the project Frank Pope and the Holy Smoke, for his collection of songs — Music For The Drunks in the Apricot House.
We asked Mike to enlighten us as to the genesis of his first solo project due for release on September 1st.
"I was stranded in Finland by the eruption of that famous volcano. Helsinki's airport was the first to close and the last to re-open. I had a full ten days, during which none of us really knew if or when we would ever leave. I was taken in by friends of mine, in their beautiful clapboard apricot coloured house. It was during that time, that I become acquainted with others who had been stranded and we drank a few beers and played each other our songs.
I was inspired from then on, not just to write more, but to record those songs. Hence, 'Music for the Drunks in the Apricot House', and the album is really forged in that time, although the songs tell autobiographical, semi auto-biographical or stories that have a resonance for me.
The songs are I think, quite eclectic, I sometimes think too diverse, but my own voice, and the quality of the playing has been perhaps a unifying factor. it's difficult to categorise the songs, but hopefully that can be a positive too.
I am not a singer. I am just someone who sings songs, and my own songs at that. I hope I have done a fair job at it. But I have been supported by a superb band of musicians, all of whom are busy with other projects. In that respect, The Holy Smoke isn't really a gigging band at all, its not even really a band, it has been a project that has developed its own unique character. I hope though, that this might evolve into something that we can present love a couple of times for the sheer enjoyment of playing some of these tracks in front of an audience. I try not to tell a full story, merle to lead people half way in, and then abandon them by the side of the road. to that end, playing live is the only way to go to interpret the songs, and will certainly bring another dimension.
My aim in producing the album has been two fold; to provide a platform for my own songs to see the light of day, and to enjoy the process. I think that when 'Music for the Drunks' is released through Bandcamp on 1st October, and subsequently on CD and vinyl, I will have achieved the first, the second has been a constant.
Each song inevitably starts out life as an acoustic guitar noodle, before being transformed into the finished product. I have been fortunate in that the sketches in my head are often quite fully formed, and it has taken some highly talented musicians and excellent production from Jack Marshall at Hollow Floor Studios, to realise them as the hopefully well-crafted pieces that they have become.
The astonishing thing is that the top class musicians who have graced the album, whether playing on every track, or simply adding a percussion line here or a backing vacuole there, all either live or have a close connection with Audlem. I have often thought that there has been something in the water in this village. But now I am convinced. I am indebted to Ian Haughey, Alisdair McKenzie, Sally Keighley, Paul Turner, John Gunstone, George, Pete and Kirsty Marshall and Dave Nettleton, in addition to the excellent Fluff, Jamie Brownfield, Simon McKelvie and Molly Draba Mann all of whom have Audlem somewhere in their blood.
I am now of course busily working working on the next collection of songs, which will like this album, be not only different from each other, but different from 'Music for the Drunks in the Apricot House too. In the meantime, I need to consider how to bring together the band to actually play live, and if we are able to Audlem will be the first date on the list.
My measure of success has really been, 'does it sound like a unified piece of work, by a group of people comfortable playing with each other, and importantly, would I like to listen to it?' in that respect, whilst its been a long time coming... its music for grown ups, and it definitely fills a gap in my own record collection. I hope others feel the same.
STAY UP-TO-DATE
News from the coop
SIGN UP
For all the latest news,
offers and upcoming gigs
© 2014-2023 FatPigeonLive