Wolf Alice - Visions of a Life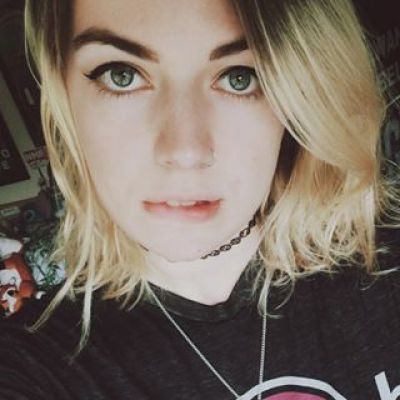 By Sophie
People often ask if rock and roll is dead; Wolf Alice are here to prove that this is certainly not the case. The main gripe within the rock community is that bands that hit that sweet spot of popularity at just the right time, do not bring anything new to the table. There are countless bands across the world, practicing in their garages and touring in their mini-vans rocking a multitude of venues, rarely to be heard by the masses.
It only takes a fateful encounter to 'break the barrier' and become a band known across the world, and Wolf Alice managed to do that and are continuously riding that wave with such care and gratitude whilst kicking so much ass it's hard to keep up.
Last September Wolf Alice released their second album entitled Visions of a Life; an immensely intimate project for the badass London quartet that propelled them further into the halls of rock royalty, after the success of their debut LP Love is Cool. Rooted firmly within the rock genre, the band stick to their unique aesthetic and formula that served them immensely on their debut by moving freely within the aforementioned genre, whilst merging multitudes of rock variants like folk, grunge, noise rock and shoegaze into the mix. Wolf Alice can rely alternative rock sensibilities throughout the record but push each individual track to the forefront by their distinct differences to one another.
If there is an overarching theme to this record, it's a personal one. Corner-posted with a dreamy opener and a raging closer, Wolf Alice deal with anxiety, love, longing and loss with twelve tracks that all have their own story to tell. Whether fictional or inspired by personal stories and experiences, each track captures multiple, moments within each member's psyche that erupt into deep explorations of emotions that they are not afraid to wear on their sleeves.
Opening track 'Heavenward' deals the loss of a friend in a dream rock haze, slowly fading into what can only be described as the absolute opposite in 'Yuk Foo'; a brash, gut-punching anthem where lead vocalist Ellie Rowsell is able to demonstrate her insanely adaptable vocal range against Jeff Oddie's experimental shredding and Theo Ellis' pummelling bass, all relying on Joel Amey's ferociously raw rhythm — a common occurrence on this record.
'Yuk Foo' takes the late 90s and early 80s hardcore angst and turns the dial up to eleven, whilst Rowsell spits rage-inducing lines with generous amounts of 'fucks' and 'shits', whilst commentating on the plights of being human (Yeah I have feelings / 'cause I'm a human / A totally self-destructive, constantly consuming).
A similar theme arises in the anxiety-ridden 'Sky Musings'. Poetry-in-action as opposed to a song, the track offers a stagnant opening of crackling guitar static and a deep breath before Rowsell frantically begins to talk to herself during a panic attack 40,000 feet in the air. All verse and no chorus, the track constricts and contorts your head into Rowsell's state of mind, mixing Moog synths and mellotron effects with a droning beat to create a sea of chaos.
Visions of a Life draws in and out of dreamy rock consciousness to provide the brashness that Wolf Alice have shown they are more than capable of, which is what tracks like 'Yuk Foo' and 'Sky Musings' provide. The album isn't split in two either (between heavy and ethereal), Wolf Alice toe between each side to provide an air of mystery and suspense as to what form the next song is going to take. You might get the shoegazey 'Delete the Kisses', or the lo-fi tones of 'Space & Time' mixed with the almost death-metal march of 'Sadboy'.
Or, you may uncover the aptly named 'Beautifully Unconventional'; a song that utilizes an alternative pop melody with breathy, lo-fi vocals to paint a narrative told from the perspective of 80s-hearthrob Christian Slater as his character in Heathers ('As light as a feather why oh / Grade A smart clever why oh / She's no Heather why oh / So I see a life together why).
'Formidable Cool' treads a similar path, with vocalist Ellie Rowsell narrates the conflicting wants and fears of a girl falling in love and ultimately fearing a Manson-like figure, inspired by the story depicted in Emma Cline's fantastically disturbing novel The Girls. Built around an addictive, folky hook and infectious harmonies, Wolf Alice intoxicate you much like the cult leader of the novel.
Visions of a Life doesn't abruptly end, either. Wolf Alice have meticulously mapped this record out, ending with a raging symphony of a closer, the title track of the record. It plays like their magnum opus, split into three distinct parts whilst carrying a familiar hook throughout to keep investment, to hold attention. If the album could be summed up with one song, it would be its title track. It provides all the required ingredients to produce a Wolf Alice record, and leaves you wanting more.
https://soundcloud.com/wolfalice
STAY UP-TO-DATE
News from the coop
SIGN UP
For all the latest news,
offers and upcoming gigs
© 2014-2023 FatPigeonLive