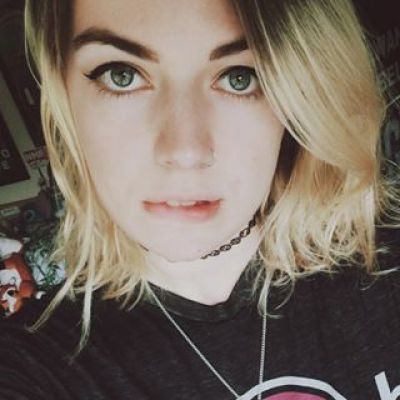 By Sophie
It's been over a year since we last heard new material from the Stroud alt-punk band Milk Teeth, but finally their new EP Be Nice has dropped today and it is a definite contender of being one of 2017's best releases.
Becky Blomfield (lead vocals, bass), Chris Webb (lead guitar), Billy Hutton (guitar, vocals) and Oli Holbrook (percussion) have definitely grown in experience and sound since the release of their first LP Vile Child; and it can certainly be heard on these four tracks. The band have also recentely been signed to Roadrunner Records, which has given them a chance pave their own alternative rock path in which they can create music that has not been heard before in the alt sphere.
Be Nice opens with the happiest and punchiest track on the EP, 'Owning Your Okayness'. The song is a concoction 90s grunge mixed with early 2000s pop-punk, with the vocal stylings of Nina Gordon and Louise Post of Veruca Salt (especially in the chorus). Biting power chords mixed with palm muting makes 'Owning Your Okayness' a fresh take on the pop-punk/grunge/alternative style that we were all hooked on ten or so years ago.
The track also deals with the trials and tribulations of a relationship which seems happy, but is also fraught with questions as to whether or not it is all too good to be true. Troubled relationships are a common thread within these four songs on the EP, navigated with emotional prowess through Blomfield's soft but fiery vocals.
The second track 'Prism' may be slower than we're used to with Milk Teeth, but it is a fantastic focal piece on the beauty of heavy melody and bass riffs. Webb and Hutton utilize the pitch bend that was used in the previous tracks' bridge, by placing it in the chorus to elevate Becky's snarling vocals. 'Prism' describes how a relationship can turn upside down; a relationship where you need to get out and prevent yourself from being caught in a sociopathic web of lies and control.
'Fight Skirt' is choppy (in a good way), and an ultimate headbanger. The churning rhythm guitar, punching drums (courtesy of the legend that is Holbrook) coupled with the breaks between the verses and choruses makes for the heaviest track on the EP; especially when contrasted to its following track 'Hibernate'.
'Hibernate' clocks in at just over four minutes, making it the longest song on the EP. Blomfield's narration and vocal pattern make for an empathetic, emotional front for the band; especially intertwined with the deep lyrics. The track carries a melancholic, acoustic tone flowing through Blomfield's emotions, which eventually builds up to the emotional release unleashed in the bridge. 'Hibernate' utilizes every aspect of Milk Teeth on the previous three songs to create the ultimate magnum opus for the EP.
Through Be Nice, Milk Teeth can show a larger audience how much they have developed since their debut LP, combining their flair and talent within different aspects of alternative music and multiplying that by ten.
You can catch Milk Teeth on their current tour details of which is on their label's website roadrunnerrecords. FatPigeonLive understands a second EP is in the works for release later this year.
STAY UP-TO-DATE
News from the coop
SIGN UP
For all the latest news,
offers and upcoming gigs
© 2014-2023 FatPigeonLive